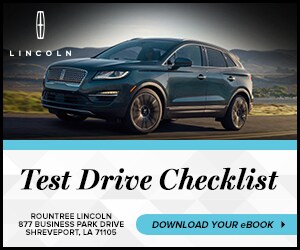 The test drive is arguably the most important, and exciting, part of the car-buying process. To make sure that shoppers in the areas of Shreveport, Bossier City, and Stonewall get the most out of their test drive and pick out the perfect vehicle, we at Rountree Lincoln have put together this Test Drive Checklist.
Inside this eBook, you'll find a detailed and comprehensive list of everything you need to check before and during your test drives, such as checking the functionality of all the seatbelts and experimenting with cruise control. This list is meant to guide you through the test drive and prevent you from missing anything.
You can access your copy of our Test Drive Checklist eBook by filling out and submitting the short information request form on this page. Once you've submitted your information, you'll be able to take the next exciting step towards finding your next vehicle!